WSSC Project - South Side '21
Project Name and Number:  Devilwood Dr.  WMR - BR6562A18
Project Manager:  Matthew Brew
Contact Information:  (301) 206-8820

No sooner than 2021, WSSC plans to replace the main waterlines on a few streets on the South Side of Mongomery Square.  Unfortunately, this means that WSSC will be digging up some of the streets recently repaved by a private contractor.  The repaving took place after Washington Gas finished installing new gas lines.  WSSC will also be replacing a pipe that runs under Montrose Road.  MSCA will do its best to make sure that those streets are restored back to the condition they were in.  See the project map below.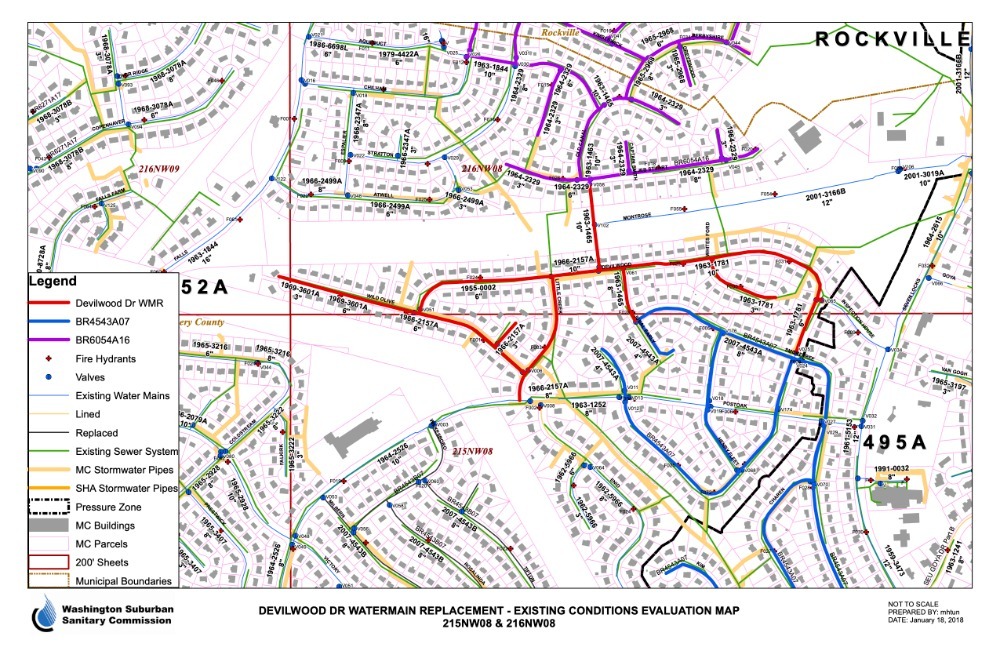 The

red lines

show the streets where new water pipes will be installed.  (The affected streets in Montgomery Square are Whites Ford Way, about half of Jubal Early, and a significant portion of Devilwood.)  The

purple lines

show the streets currently being worked on by WSSC.  New water pipes have already been installed and the project is almost complete.  The

blue lines

show the streets that got new water pipes several years ago as part of a different project; thus, no digging will take place on those streets.